Paul served up a real banana treat on today's Paul Hollywood Pies and Puds, with his Caribbean inspired Banana tart tatin desert.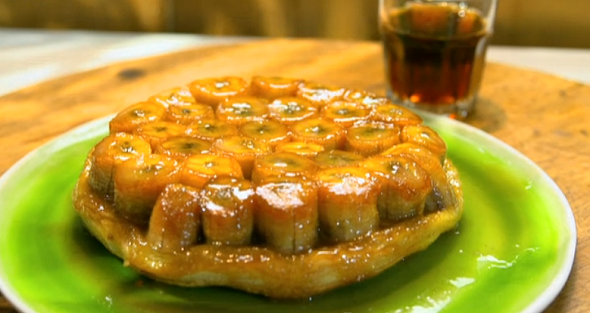 His inspiration for tackling this delicious looking dish came after the master baker invited the famous Regga Regga source king, Levi Roots to his kitchen to show him how to make Jamaican patties earlier in the show.
To make his banana tart, Paul put caster sugar in a non-stick ovenproof pan and heated it gently until the sugar turned to caramel. Once the sugar has dissolved, he adds one and a half tablespoons of water and  rum and let it bubble.
When the caramel was golden-brown he removed it from the heat and stir in the butter.
He then sat the banana chunks in the caramel, packing them close together leaving no gaps.
He rolled out puff pastry on a lightly floured work surface and then shaped it with a knife losing any excess until it is just about the right size to fit inside the pan. He then sat it on top of the bananas, tucking the edges down the side of the pan.
The tart is then transferred to the oven for 20 minutes, or until the pastry is crisp and golden-brown.
After baking, he carefully poured off any excess liquid, then inverted a plate over the pan and turn out the tatin.