Dani and Greg wins the second heat of MasterChef 2014 with dishes that included snails, rabbit and cod.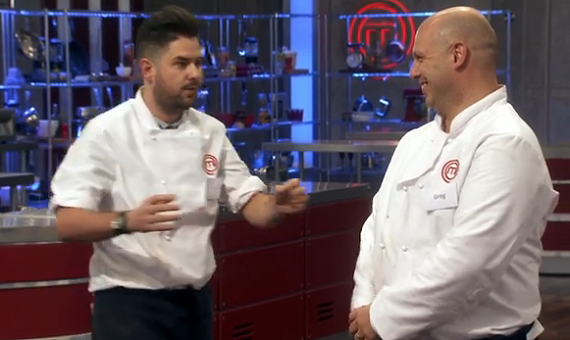 The second day of the competition saw six cooks go head to head to win a place in the quarter-finals. But, after the Invention Test, Stephen and Trina failed to impress with their plate of food and was given their bus fare home.
The four remaining cooks – Dani, Lucy, Kate and Greg, – faced one more challenge to obtain a place in the quarter-finals. They had to cook an impressive menu for some very special guests. The 2011 MasterChef champion, Tim Anderson, 2013 champion Natalie Coleman and 2010 finalist Tim Kinnaird. However, in the end it was the judges Gregg Wallace and John Torode that decided their fate in the competition.
After the final cook off, it was Dani's snail with rabbit and fruit tartan and Greg's pan fried cod fillet and chocolate fondant with beetroot purée dishes that impressed the judges and dinner guests alike. The two cooks sailed through to the next round having delivered the best plates of food on the day.