In week 2 of MasterChef The Professionals 2013, six chefs made it to the quarter finals but only two would go through to compete at the semi-final stage.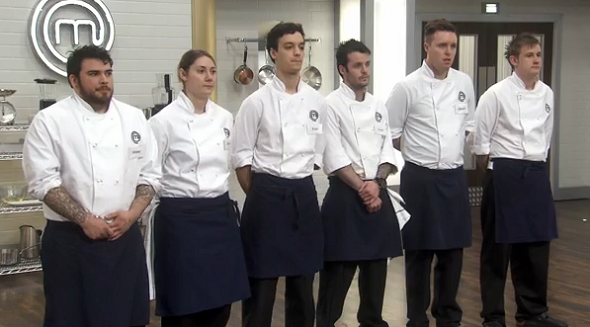 The Invention Test
For their first challenge, Tom, Steven, Vinny, Liam, Daniel and Maria had to past the invention test set by master chefs Michel Roux Junior and Monica Galetti.
They had to choose from a range of ingredients including salmon, cuttle fish, chocolate, samphire, beetroot and aubergine, and in just one hour they had to cook a sweet or savoury dish that must wow the judges. The two chefs that least impressed, would be sent home.
After a very tense and focused hour, it was time for the judges to taste the food that the professional chefs had prepared. Only four would go through to cook for the food critics in the next round.
The two chefs that failed to make the cut and had to go, were Daniel and Maria.
Maria's dark chocolate and chilli mousse desert was very colourful but the judges felt it tasted more like a ganache than a mousse.
Daniel's main course of pan fried salmon with ginger, pearl barley and roasted beetroot, proved too dry for the judges.
The Critics
In the next round the four remaining chefs faced their most nerve-racking test to date – they must showcase their skills to three of the UK's toughest restaurant critics: Charles Campion, Tracey MacLeod and Jay Rayner. With only an hour and a quarter, the remaining chefs must deliver a flawless two-course menu.
There is no doubt in our minds that this was a real pressure cooker round, and after the judges and critics alike, put on a few extra pounds eating their way through the collection of richly prepared food. It was Steven and Tom that showcased the skills need to go to through to the semi-finals.
See what they served up in the pictures below:
[imagebrowser id=21]