Nigel Barden served up slow cooked squid with red wine and rosemary for Foodie Thursday on Radio 2 Drivetime with Simon Mayo.
The ingredients are: 800g Squid (or Cuttlefish or Octopus), tubes and tentacles, cleaned, scored and cut into 5cm sq. pieces, 1 tbsp veg, or rapeseed oil, 30g butter, 2 red onions, cut into thick wedges, 1 tsp of sugar, 2 cloves of garlic, bruised but left whole, 1 sprig of rosemary, 200ml of red wine (such as Rioja or Chianti), 200ml fish stock, 1 tbsp red wine vinegar and Salt and Pepper.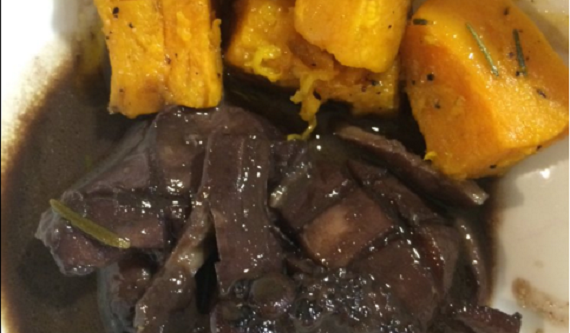 To finish: 2-3 tbsp aioli (or crème fraiche and 1 tsp puréed garlic) and 1 tbsp chopped parsley.