Nigella Lawson make a delicious dark and sumptuous chocolate cake that use no eggs and is suitable for vegans on Simply Nigella.
Nigella says: "I never thought I would be in raptures about the joyfulness of a vegan chocolate cake. It's true that I first made a version of it – the recipe kindly given to me by Caroline Stearns, my technical guru in the kitchen – when I was giving a supper for a vegan friend, but I now make this as my chocolate cake of choice, and I don't even need to explain it's vegan. On top of everything else, it's incredibly simple to make."
The ingredients are: 225g plain flour, 1½ teaspoons bicarbonate of soda, ½ teaspoon fine sea salt, 1½ teaspoons instant espresso powder, 75g cocoa, 300g soft dark brown sugar, 375ml hot water, from a recently boiled kettle, 90ml (75g if weighed when solid) cold-pressed coconut oil, 1½ teaspoons cider vinegar or white wine vinegar, 1 x 15ml tablespoon edible rose petals and 1 x 15ml tablespoon chopped pistachios.
For the icing: 60ml cold water, 75g coconut butter (this is not the same as oil), 50g soft dark sugar, 1½ teaspoons instant espresso, 1½ x 15ml tablespoons cocoa and 150g dark chocolate (min 70 per cent cocoa solids, see Intro, opposite), finely chopped.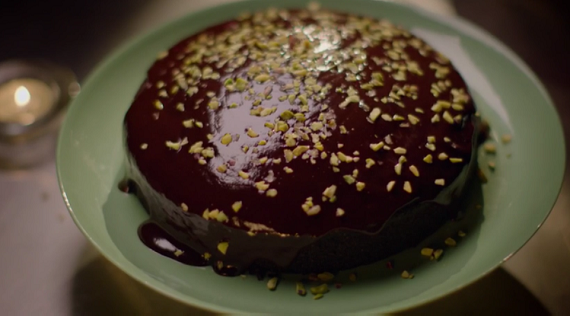 To get things started Nigella says: "Line the bottom of your springform cake tin (you will need a good, leakproof one as this is a very wet batter) with baking parchment."
All of Nigella's recipes can be found in her fabulous new book titled: Simply Nigella: Feel Good Food- available from Amazon now
.