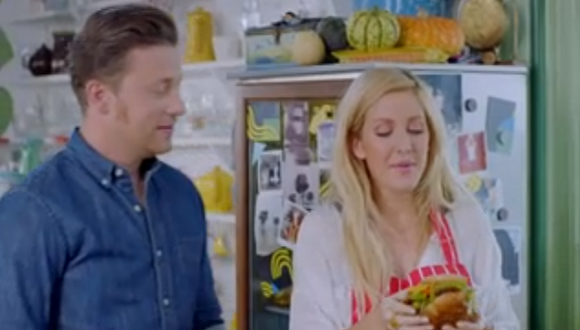 Jamie Oliver help Ellie Goulding in the kitchen to cook burgers suitable for vegetarians and vegans on Jamie and Jimmy's Friday Night Feast.
Jamie says: "I've teamed these beautiful veggie and vegan burgers with homemade spiced vegan mayo and crispy onion rings."
The ingredients are: 200 g frozen sweetcorn, 200 g frozen peas, 200 g frozen broad beans, ½ bunch of fresh coriander, 75 g plain flour, plus extra for dusting, a good pinch of ground cumin, 1 teaspoon cayenne pepper, sea salt, freshly ground black pepper, 1 tablespoon sesame seeds, 1 tabelspoon sunflower seeds, olive oil, ½ iceberg lettuce, 2 ripe tomatoes, 2 sprigs of fresh basil, 2 gherkins, 1 ripe avocado, juice of 1 lime, 4 large good quality burger buns, 1 punnet of cress and tomato ketchup, to serve.
For the spiced vegan mayo: 2 spring onions, ½ fresh red chilli, ½ clove of garlic, 2 heaped tablespoons jarred chickpeas, 1½ tablespoons sundried tomato paste, 1 teaspoon English mustard, 1 splash of brandy, juice of 1 lemon and extra virgin olive oil.