Lorraine Pascale makes a quick seafood pasta dish with linguine with prawns, clams, garlic and chilli on How To Be A Better Cook for armature cook Sonia to try at home.
Lorraine says: "People often tell me that cooking with shellfish is something which they find intimidating. It is really a case of just bunging the shellfish into the pan, then standing back and letting the hob do the work for you."
The ingredients are: spray oil, 4 wholewheat, plain flour or corn tortillas (about 19cm diameter), 1 small garlic clove, peeled and halved, 400g can chopped tomatoes, ¼-½ tsp chilli flakes (optional), 125g pecorino cheese (or a mature cheddar), coarsely grated, 285g jar roasted red and yellow peppers, drained (about 175g of actual peppers), 70g rocket, small handful fresh basil leaves (optional), flaked sea salt and freshly ground black pepper, 2-3 tsp balsamic vinegar (optional) and 2-3 tsp extra virgin olive oil (optional).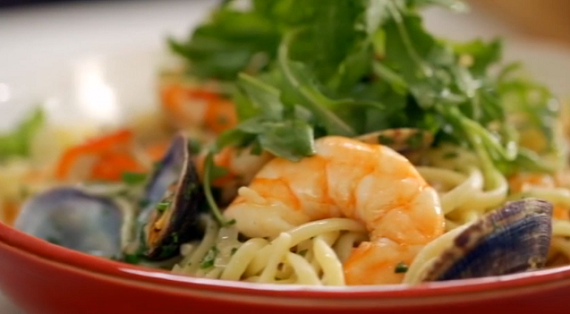 See how Lorraine prepare the dish in this video:
This recipe can be found in Lorraine's book: How to Be a Better Cook
available from Amazon UK
now.