Jamie Oliver cooks tasty looking insanity burgers with a secret sauce on the barbecue on Jamie's Comfort Foods.
Jamie says: "Some burgers are gourmet and piled high with toppings, whereas others are thinner, simpler, wrapped in paper, steamy and sloppy. All I can say is my insanity burger is going to be right up there – the method is almost ritualistic in what it requires you to do to get close to burger perfection. I've also used the brilliant technique of brushing the burgers with mustard and a dash of Tabasco Chipotle sauce as they cook to build up an incredible gnarly layer of seasoning."
The ingredients are: 800 g minced chuck steak, olive oil, 1 large red onion, 1 splash of white wine vinegar, 2 large gherkins, 4 sesame-topped brioche burger buns, 4-8 rashers of smoked streaky bacon, 4 teaspoons American mustard, Tabasco Chipotle sauce, 4 thin slices of Red Leicester cheese and 4 teaspoons tomato ketchup.
For the burger sauce: ¼ of an iceberg lettuce, 2 heaped tablespoons mayonnaise, 1 heaped tablespoon tomato ketchup, 1 teaspoon Tabasco Chipotle sauce, 1 teaspoon Worcestershire sauce and 1 teaspoon brandy, or bourbon (optional).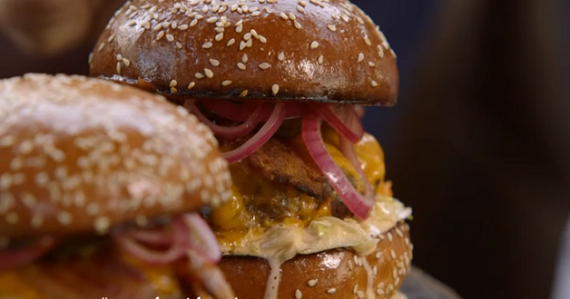 The full recipe is available in Jamie's Comfort Food
book available at Amazon
.