Gino D'Acampo makes herb pancakes with avocado and bacon on let's Do Lunch with Mel.
The ingredients are: 75g plain flour, 1⁄4 tsp baking powder, a pinch of salt, 1 egg, 90ml milk, 3-4 tbsp chopped herbs, chives, coriander, flat leaf parsley or a mix, 2-3 tbsp vegetable oil, 1⁄2 an avocado, 2 rashers back bacon, 2 tbsp plain yogurt, A tiny pinch of grated garlic, Zest of half a lemon and Salt and pepper.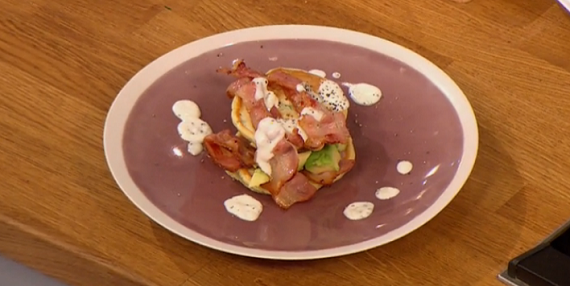 To prepare the recipe, place the flour, baking powder and salt in a bowl, then add the egg. Start to whisk everything together, adding the milk a little at a time to prevent any lumps from forming. When all the milk is added, add the herbs and season with a little black pepper.
Heat the oil in a frying pan over a medium heat. Allow to get hot, then add 3 spoonfuls of the batter to the pan. Add the bacon around the sides and allow this to fry also. Cook for about 2 minutes on this side.
When bubble start appearing on the surface of the pancake it is time to turn them.
Whilst the pancakes and bacon are cooking , slice the avocado and make the dressing by mixing together the yogurt, lemon zest, garlic then season with salt and pepper.
When the pancakes are golden brown, fluffy and spongy to touch in the centre, remove from the pan and place on a plate in a ring shape. Serve along side the avocado and crispy bacon, topped with the lemon and garlic yogurt.