Jamie makes a fantastic fish tikka curry on Jamie's Money Saving Meals.
Jamie says: "Knocking out a perfumed, delicious fish curry with fluffy rice, loads of veggies and explosions of flavour is a fairly regular thing in the Oliver household – we all love it (apart from Buddy, he's still in training). This is a cracking version, and in the spirit of keeping costs down, a wonderful opportunity to embrace quality frozen fish, which is perfect here, as well as frozen cauliflower – both great value products."
The ingredients are: 1 lemon, 3 tablespoons tikka curry paste, 400 g frozen white fish fillets, 1 onion, 2 cloves of garlic, 1 thumb-sized piece of ginger, 1 fresh red chilli, 15 g fresh coriander, olive oil, 300 g potatoes, 2 ripe tomatoes, 300 g frozen cauliflower florets, 50 g red split lentils, 320 g basmati rice, 10 cloves and 4 tablespoons fat-free natural yoghurt.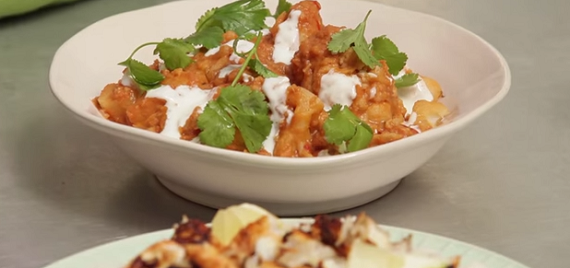 See how the Jamie's curry is made in this video: