Dean Edwards cooks up a easy-peasy-lemon-squeezy pasta dish with rocket pesto on Lorraine
The ingredients are: 4 free-range chicken breasts, Juice of 1 lemon, 2 tbsp olive oil, 1 tbsp chopped rosemary, 1 tbsp honey, 4 handfuls fresh tagliatelle, 1 red onion, 2 cloves garlic. crushed and 1 courgette, diced into small pieces.
For the rocket pesto: fresh basil, a handful rocket, ½ clove garlic, 50g walnuts, 30g Parmesan, Lemon juice to taste and 50ml extra virgin olive oil.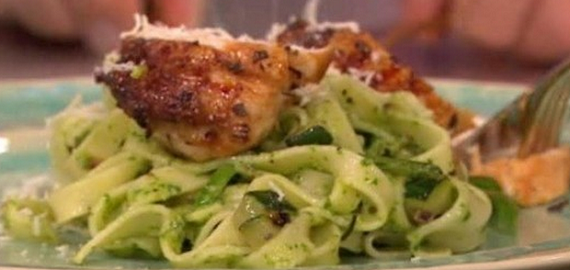 Season and seal skin side down in a hot pan for around 3 minutes until golden. Turn over and then glaze with the honey.
Transfer to an oven set at 200C for 12-14 minutes or until cooked through.
Sauté the diced courgette, onion and garlic in a little oil for 4-5 minutes until softened then set aside.
Place the basil and rocket into a mini blender along with the toasted walnuts, garlic and lemon juice and oil then blend until you have a loose consistency, add the parmesan cheese and season to taste with salt and pepper.
Cook the tagliatelle to the packet's instructions, drain, then stir through the pesto and sautéed vegetables.
Serve with the sliced chicken and another grating of Parmesan.