Jamie Oliver makes a delicious looking Asian hungover noodles dish with crunchy veg, egg noodles and a runny egg on Jamie's Money Saving Meals.
Jamie says: "This super-tasty, quick noodle recipe is perfect when you're feeling a little down in the dumps."
The ingredients are: 1 thumb-sized piece of ginger, 1 clove of garlic, 2 tablespoons low-salt soy sauce, 3 tablespoons rice wine vinegar, 3 tablespoons sesame oil, 1 Chinese cabbage, 500 g fresh or frozen broccoli, 250 g medium edd noodles, 200 g mangetout, 4 large eggs, olive oil and hot chilli sauce, to serve.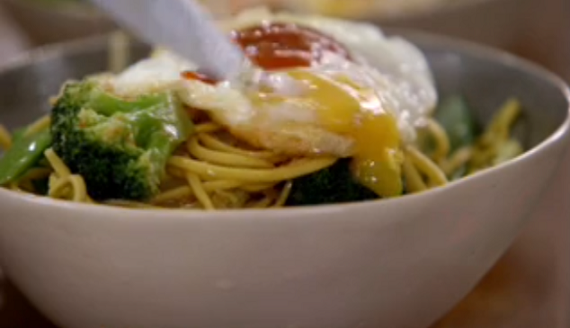 The recipe is taken from Jamie's book titled: Save with Jamie: Shop Smart, Cook Clever, Waste Less
.