Meliz Berg served up a tasty one-pot lamb pasta with garlic yoghurt and chilli butter on This Morning.
The ingredients are: 1 chicken stock cube, 1.2 litres (2 pints) boiling water, 3 tbsp olive oil, 2 onions, finely chopped, 1 tsp ground cumin, 1 tsp paprika, 1 tsp tomato purée, 500g minced lamb, ½ tsp salt, ½ tsp ground black pepper, 300g conchiglie pasta, 2 bay leaves, Garlic yoghurt (see below), Chilli butter (see below), 100g halloumi cheese, finely grated and 1 tsp dried mint leaves, to one side.
For the Garlic Yoghurt: 1 large garlic clove, finely grated, 150g thick set natural yoghurt and ½ tsp sea salt flakes.
For the Chilli Butter: 45g unsalted butter , 1 tbsp extra virgin olive oil , 1 tbsp Turkish sweet red pepper paste, 1 tsp pul biber and 1 tsp dried mint.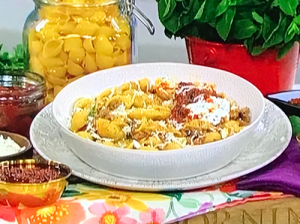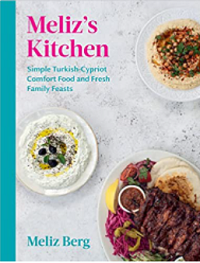 See recipes by Meliz in her book titled: Meliz's Kitchen: Simple Turkish-Cypriot comfort food and fresh family feasts available from Amazon now.