Jordan Banjo with the help of 15-year-old Teyha, eight-year-old Jorja and seven-year-old Dylan Clarke, served up a tasty rainbow pizza on Eat Well For Less?
The ingredients are: 225g strong white flour, plus extra for dusting, 225g strong wholemeal flour, 1 tsp fast-action dried active yeast, 1 tsp fine sea salt and 4 tsp olive oil, plus extra for the bowl.
For the topping: 160g sweet potato, peeled and cubed, 300g passata, 1 tsp dried oregano, 300g 50% reduced-fat mature cheddar, grated, 2 red peppers, seeds removed, thinly sliced, 2 orange peppers, seeds removed, thinly sliced, 240g sweetcorn (tinned or frozen), 240g button mushrooms, thinly sliced, 240g broccoli, thinly sliced, ½ small red onion, thinly sliced, 80g pitted Kalamata olives, 80g kale, thick stalks discarded, leaves roughly chopped and freshly ground black pepper.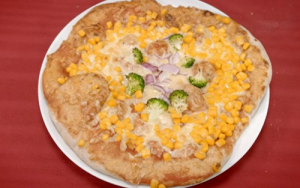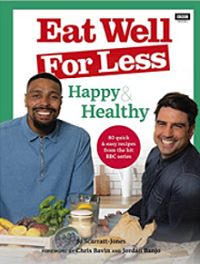 See more Eat Well For Less? recipes in the book titled: Eat Well for Less: Happy & Healthy: 80 quick & easy recipes from the hit BBC series available from Amazon now.