Allegra Mcevedy served up a tasty chilli chicken ramen on Steph's Packed Lunch.
The ingredients are: 1L chicken stock (this could be made from your Sunday roast leftovers – You can always enhance it with a stock pot), 2 whole cloves of garlic, peeled, 1 whole chilli, optional, 2 eggs, soft boiled, A couple of good handfuls chicken (again, could also be stripped off your Sunday roast bird and shredded), A couple of healthy dollops of BBQ sauce, 1 large head of Bok Choi, quartered through the root, 1tbsp soy sauce, 1 thumb ginger, washed, unpeeled, and grated on the small holes, 300g Ramen noodles, 1 spring onion, finely sliced and Chiu chow (fried) chilli oil.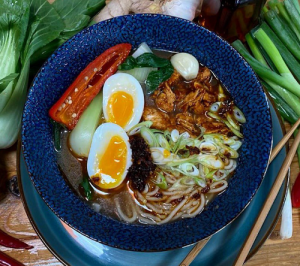 See recipes by Allegra in her book titled: Economy Gastronomy: Eat well for less available from Amazon now.