Allegra Mcevedy served up a tasty chicken lasagne on Steph's Packed Lunch.
The ingredients are: 850g tomato sauce (see below), 240g sweet potato, diced 3cm, 10ml veg oil, 150g red onion, peeled and chopped, 2g sweet paprika, not smoked, 1.5g ground cumin, 1g dried oregano, 240g cannellini beans, drained, rinsed and crushed, 360g chicken thigh, diced, 150g red pepper, medium diced and 100g corn, defrosted/drained and rinsed.
For the tomato sauce: 1 onion, peeled and chopped, 2 cloves garlic, peeled and chopped, 2tbsp olive oil, 1-2tbsp tomato puree, 1-2tbsp Ketchup, 8 Tomatoes chopped and Pinch of sugar.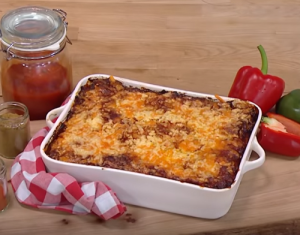 See recipes by Allegra in her book titled: Economy Gastronomy: Eat well for less available from Amazon now.