Freddy Forster served up a tasty slow cooked braised lamb shank with pasta and lamb sauce on Steph's Packed Lunch.
The ingredients are: 1 lamb shank, 1tbsp plain flour, 2tbsp olive oil, 1 small onion, peeled and cut into large chunks, 1 carrot, peeled and cut into large chunks, 1 clove garlic, peeled and chopped, Sprig of thyme, leaves removed, 1tbsp plain flour, 1tsp tomato puree, 150ml white wine, 50ml red wine, 400ml lamb stock, hot and 200ml chicken stock, hot.
For the Lemon, parmesan, and herb breadcrumbs: 3tbsp panko breadcrumbs, lightly toasted till golden, Zest of 1 lemon, 2tbsp parmesan cheese, finely grated and 2tbsp basil, to serve.
For the farfalle pasta: 150g Farfalle pasta, dried.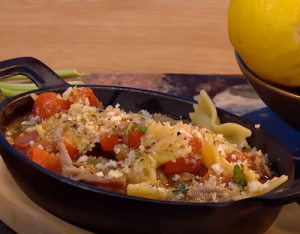 See more lamb recipes in the book titled: The Easy Guide to Lamb Recipes available from Amazon now.