Freddy Forster served up tasty chicken schnitzel with purple sprouting broccoli and basil pesto in just 20 minutes on Steph's Packed Lunch.
The ingredients are: 2 cornfed chicken breasts, skin off, 250g plain flour, 2 medium free-range eggs, lightly beaten, 250g panko breadcrumbs or Homemade breadcrumbs, 2tbsp vegetable oil and 50g unsalted butter.
For the Purple Sprouting Broccoli: 6 pieces of purple broccoli, 1tbsp olive oil and Splash water.
For the basil pesto: ½ clove garlic, peeled and finely chopped and made into a paste, ¼ bunch basil leaves, roughly chopped, 1tbsp pine nuts, lightly toasted, 3tbsp parmesan cheese, finely grated, 120ml olive oil, 1 lemon, ½ juiced and ½ left for serving.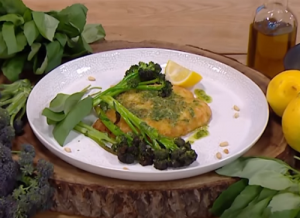 See more schnitzel recipes in the book titled: 111 Schnitzel Recipes: A Schnitzel Cookbook for All Generation available from Amazon now.