Lisa Faulkner and her sister Victoria, served up a tasty roasted vegetable winter warming soup with cheesy soda bread on today's episode of Lorraine.
The ingredients are: 1 onion chopped, 2 leeks chopped, 2-3 carrots sliced, 2-3 celery sticks chopped, 1 sweet potato chopped or ¼ butternut squash cubed, 1 courgette sliced, 1 clove garlic smashed, 1 -2 tbsp olive oil, 1 litre vegetable stock, 1 tsp marmite, 1 tbsp white miso paste, Salt and pepper and Fresh dill.
For the cheesy soda bread: 275g plain flour, 200 whole meal flour, 1 tsp bicarbonate of soda, 1 pinch salt, A handful of grated cheese, 300ml yogurt or buttermilk, 150 ml milk, 1tsp honey and Some sprigs of rosemary.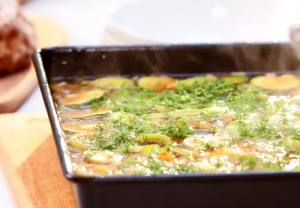 See recipes by Lisa in her book titled: The Way I Cook…
available from Amazon
now.