Ruby Bhogal served up a delicious upside-down blood orange drizzle cake on Steph's Packed Lunch.
The ingredients are; 2 Blood Orange, sliced, 15g Caster Sugar, 275g Unsalted Butter (note: Ruby used Stork Original Baking Spread for my cakes normally), room temp, 275g Golden Caster Sugar, 1tsp Vanilla Bean Paste, 4 Large Eggs, 275g Self Raising Flour, sifted, Zest and juice of 2 Blood Oranges.
For the Drizzle: 50g Icing Sugar, 40g Caster Sugar and 1 to 2 Blood Oranges, juice and zest.
For the Cream Cheese Frosting: 110g Full Fat Cream Cheese, room temp, 65g Unsalted Butter, room temp, 200g Icing Sugar and 1.5tsp Vanilla Bean Paste.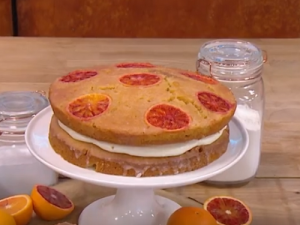 See more upside-down cake recipes in the book titled: 123 Upside Down Cake Recipes: An Upside Down Cake Cookbook for All Generation available from Amazon now.