Nisha Katona showcased her tasty chip butty wrap with Chat Masala, apple and a Indian twist on tomato ketchup on This Morning.
The ingredients are; 300ml veg oil, 3 large potatoes cut into chip, 2 tsp turmeric, 1/2 tsp fenugreek powder, handful of chopped fresh coriander, 1 large green chilli (mild) sliced, 1 large red chilli (mild) sliced , 1/2 red onion finely sliced, 1 Granny Smith Apple cut into matchsticks , Chapattis, black salt , Chat Masala for sprinkling and Jar of green chilli pickle.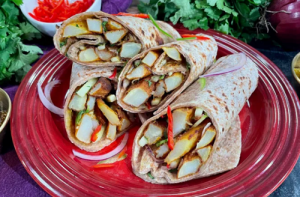 See recipes by Nisha in her book titled: The Spice Tree: Indian Cooking Made Beautifully Simple available from Amazon now.