Nadiya Hussain served up tasty BBQ chicken drumsticks with honey glaze, sriracha sauce, aubergines and a coronation sauce on Nadiya's Fast Flavours.
The ingredients are: 10 chicken drumsticks (about 700g), skin on, 3 tbsp oil, plus extra for greasing the tray, 3 garlic cloves, minced, 4 tbsp soy sauce, 4 tbsp sriracha sauce, 3 tbsp runny honey, ½ tsp ground star anise, 2 tbsp cornflour and roughly chopped fresh coriander, to serve.
For the coronation aubergines: 225ml olive oil, 3 garlic cloves, minced, 1 small onion, grated, 1 tsp paprika, 1 tsp salt and 2 large aubergines (about 600g), sliced into 1cm thick slices.
For the dressing: 200g Greek yoghurt, 2 tsp curry powder, 2 garlic cloves, minced, ½ tsp salt, 2 tbsp mango chutney, finely chopped and 2 tbsp full-fat milk.
To serve: small handful crispy fried onions, small handful raisins and small handful fresh coriander, thinly sliced.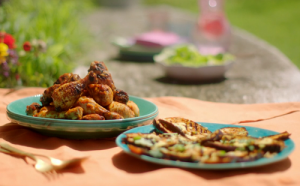 See recipes by Nadiya in her book titled: Nadiya's Fast Flavours available from Amazon now.