Ruby Bhogal served up a delicious chocolate and cherry yule log on Steph's Packed Lunch.
The ingredients for the sponge are: 4 Large Eggs, separated, 140g Caster Sugar, 15ml instant coffee, 60g Unsalted Butter, melted, 1tsp Vanilla Bean Paste, 60g Self Raising Flour, sifted, 15g Cocoa Powder, sifted and Pinch of Salt.
For the filling: 175g Double Cream, 100g Mascarpone, 25g Caster Sugar, 1tsp Vanilla Bean Paste and 150g Kirsch Cherries.
To finish: 75ml Double Cream, 15ml instant coffee and 75g Dark Chocolate.
To Decorate: Icing Sugar, Ready Made Meringue and Chocolate Shavings.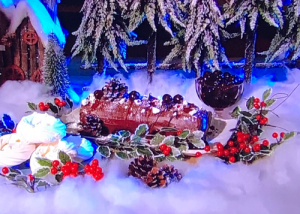 See more Christmas dessert recipes in the book titled: Christmas Cookbook: Christmas Cookies, Dinner ideas, Cakes and Desserts Recipes and Cocktails available from Amazon now.