John Torode and Lisa Faulkner served up a tasty fondue with filo-wrapped asparagus and pancetta-covered potatoes on John and Lisa's Weekend Kitchen.
The ingredients for the potatoes : 500g new potatoes, 15 slices pancetta and Cocktail sticks.
For the asparagus : 10 – 15 asparagus spears, trimmed, 3 sheets filo pastry, 75g melted butter and 2 tbsp finely grated parmesan.
For the fondue : 500g of grated Cornish Yarg (no rind), 300ml dry Cornish cider, 1 generous tsp of cornflour and 2 generous tsp of English mustard powder.
To serve: A selection of breads, cut into bite-sized chunks.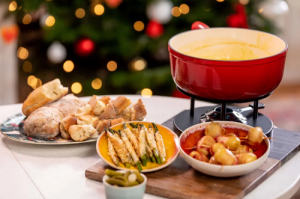 See recipes by John in his book titled: My Kind of Food: Recipes I Love to Cook at Home
available from Amazon
now.