Shelina Permalloo and Kirstie Allsopp served up a tasty lobster with tamarind paste, cinnamon rice and mango salad on Kirstie's Handmade Christmas.
The ingredients for the Mauritian lobster paste include: Oil, chilli, ginger, garlic, tamarind paste, lime juice and sugar.
For the rice(covered and cooked for 10 minutes): Turmeric, cloves, ginger paste, cardamom pods and cinnamon.
Serve with fried onions, toasted almonds and coriander.
For the mango salad: Firm Mango, salt, garlic, red chilli, oil, lime juice and coriander.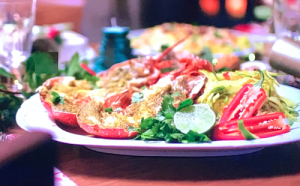 See recipes by Shelina in her book titled: The Island Kitchen: Recipes from Mauritius and the Indian Ocean available from Amazon now.