Monica Galetti served up tasty chicken kofte with flatbread and cucumber salad for a skills test on Masterchef The Professionals.
The ingredients include: chicken thighs, onion, breadcrumbs, egg, chilli flakes, paprika and ground coriander.
For the flat bread: self raising flour, baking powder, Greek yoghurt and cumin seeds.
For the cucumber salad: cucumber, garlic, Greek yoghurt and lemon zest.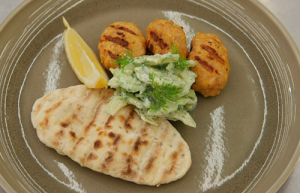 See recipes by Monica in her book titled: AT HOME: THE NEW COOKBOOK FROM MONICA GALETTI OF MASTERCHEF THE PROFESSIONALS: My Favourite Recipes for Family & Friends, from Monica Galetti of Masterchef The Professionals available from Amazon now.