Phil Vickery served up tasty seasonal and festive lamb shanks with mashed potatoes, spinach, raisins, apricots, prunes, pine nuts, spices and orange juice on This Morning.
The ingredients are: 4 large shanks of British lamb, 3-4 tbsp vegetable oil, 2 heaped tsp crushed black peppercorns, 2 heaped tsp crushed whole coriander seeds, 1 level tsp ground mace, 1 level tsp ground freshly nutmeg, 2 tsp ground cinnamon,2 tsp ground allspice, 1 tsp crushed green cardamoms, 4 medium onions sliced finely, 4 cloves of garlic, peeled and roughly chopped, 4 tbsp flour, 3 tbsp tomato puree, 500ml fresh orange juice, 2 pints 1 litre roughly strong boiling chicken or lamb stock, 120g dried apricots chopped roughly, 100g raisins, 150g 'ready to eat' dried prunes, de stoned and chopped roughly, 200g vacuum packed chestnuts, halved , 100g pine nuts, Salt, Sugar to taste, 8 tbsp chopped, fresh coriander, stalks and all and 8 tbsp chopped fresh parsley, stalks and all.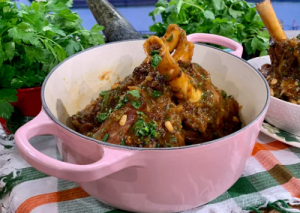 See recipes by Phil in his book titled: Save Money Good Diet: The Nation's Favourite Recipes with a Healthy, Low-Cost Boost
aviialble from Amazon
now.