Marcus Wareing served up tasty pan fried sea bream fillets with couscous and red pepper mayonnaise for skills test on Masterchef The Professionals.
The ingredients for the couscous include: chicken stock, shallots, garlic, ground cumin, ground smoked paprika and cayenne pepper, raisins and toasted sliced almonds
For the mayo: egg yolks, Dijon mustard, red wine vinegar, vegetable oil and red peppers.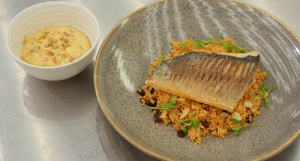 See recipes by Marcus in his book titled: Marcus' Kitchen: My favourite recipes to inspire your home-cooking available from Amazon now.