Phil Vickery makes a simple but yet delicious Asparagus soup with crème fraîche on this Morning that can be served chilled or warm.
The ingredients are: 2 onions, finely chopped, 1 large potato, peeled and cubed, 1 leek finely chopped, 50g baby spinach leaves, 1.2 litres water, 2 x 10g vegetable stock cubes, 500g cooked, chilled and very green asparagus, 100g browned, flaked almonds, 200g crème fraiche, 6 tbsp chopped chives.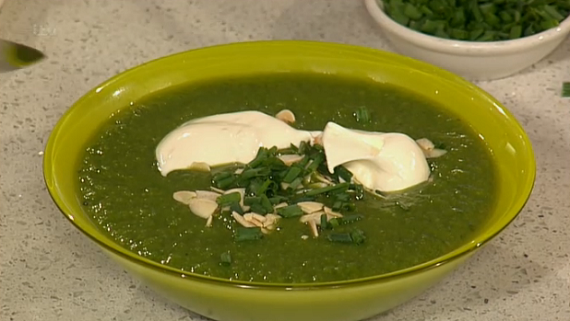 To prepare the soup: Cook onions, leek and potato in vegetable stock until tender and then cool.
Add cooked ,chilled asparagus and spinach and liquidise.
Add salt and pepper, creme fraiche, chives and toasted almonds.