Melissa Hemsley served up delicious freestyle Florentine biscuits with chocolate, nuts and seeds on Lorraine.
The ingredients are: 300g good-quality dark or mixed leftover chocolate (or whatever quantity you have) , 1 large handful of mixed flaked nuts, whole nuts and seeds, 1 handful of dried fruit, like raisins, sultanas or freeze-dried raspberries or bright green chopped pistachios and a tiny pinch of sea salt.
Optional extras: A few drops of peppermint extract, A few drops of orange extract, A little orange, lemon or lime zest, A little pinch of ground ginger, cinnamon or cardamom and Coconut flakes or desiccated coconut.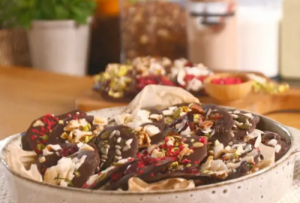 See recipes by Melissa in her book titled: Eat Green: Delicious flexitarian recipes for planet-friendly eating available from Amazon now.