Freddy Forster served up tasty maple glazed duck breast, potato rosti with cranberry and chestnut sauce on Steph's Packed Lunch.
The ingredients for the Duck breast are: 2 duck breasts, Vegetable oil, Salt/pepper and 2 tbsp maple syrup.
For the Potato Rosti: 250g grated raw potato (Peeled & squeeze out the water), 1 tbsp plain flour, Salt and pepper, 50g finely sliced Brussels sprouts (Raw) and 1 egg.
For the Cranberry and Chestnut sauce: 2 tbsp frozen cranberries, 2 tbsp crushed chestnuts (Pre cooked vac packed ones), ½ tsp diced red onions, 1 tbsp Branston pickle, 50ml port, 1tsp Sherry Vinegar, 300ml veal/beef stock, Few leaves of coriander, 2 rashers of smoked streaky bacon, roughly chopped and 25g unsalted butter.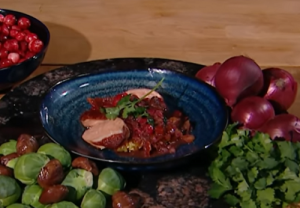 See more duck recipes in the book titled: Gressingham: The definitive collection of duck and speciality poultry recipes for you to create at home available from Amazon now.