Monica Galetti served up tasty eggs Benedict with a sriracha chilli hollandaise sauce for a skills test on Masterchef The Professionals.
Th ingredients are: 1½ litres water, 75 millilitres white wine vinegar, 8 large eggs, 4 English muffins (split), 4 – 8 serrano ham slices or similar and pepper.
For the hollandaise sauce: 100 millilitres white wine vinegar, 50 millilitres water, 1 tarragon sprig (chopped), 1 tablespoon white peppercorns (crushed), 250 grams butter, 1 tablespoon hot sriracha chilli sauce, 3 large egg yolks, ½ lemon (for squeezing) and salt.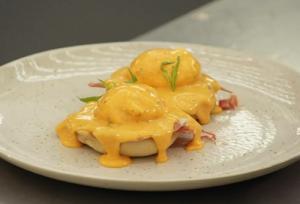 See recipes by Monica in her book titled: AT HOME: THE NEW COOKBOOK FROM MONICA GALETTI OF MASTERCHEF THE PROFESSIONALS: My Favourite Recipes for Family & Friends, from Monica Galetti of Masterchef The Professionals available from Amazon now.