Jose Pizarro served up a Warm Spanish BBQ Steak Salad with chicory, flaked almonds roasted, baby tomatoes, Idiazabal cheese and capers on James Martin's Saturday Morning.
The ingredients are: 250g ribeye steak, 75ml Spanish olive oil, 3 white chicory, 1 red chicory, 25g flaked almonds toasted, 100g baby tomatoes, Few sprigs of rosemary, Few sprigs of parsley, 25g Idiazabal cheese grates and 25g capers fried in butter.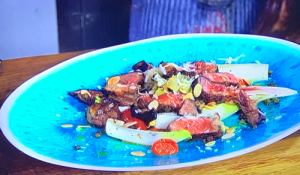 See recipes by Jose in his book titled: Basque (compact edition): Spanish Recipes from San Sebastian and Beyond available from Amazon now.