Freddy Forster served up tasty lamb hash browns using leftover lamb on Steph's Packed Lunch.
The ingredients are: leg of lamb joint (750g), Olive oil, Salt/pepper, 2 cloves garlic and 1 spring thyme.
For the Lamb Hash Brown: 200g leg of lamb meat, cooked and shredded leftover from Sunday roast from above, 150g baked potato, 2tbsp spring onions, chopped, Salt/Pepper, 1tsp Worcestershire sauce, 100g plain flour, 1 medium free range egg, beaten and 100g breadcrumbs,
For the Butternut Squash and Feta Cheese Dressing: 50ml olive oil, 50ml rapeseed oil, 1tbsp flat leaf parsley, chopped, ¼ tsp mint, chopped, Few leaves of basil, small leaves, 100g diced feta cheese, small, ¼ tbsp. capers, chopped, 2 tbsp. butternut squash, cooked and diced and ½ tsp grated lemon zest.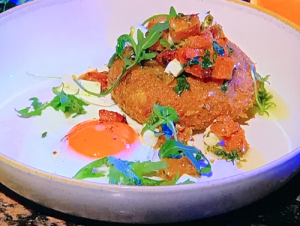 See more recipes to up use leftover food in the book titled: Creative Ways to Use Up Leftovers: An Inspiring A – Z of Ingredients and Delicious Ideas available from Amazon now.