Nisha Katona served up tasty Tandoori roast leg of lamb with golden turmeric roast potatoes on This Morning.
The ingredients are: 1 small white onion peeled, 10 cm peeled ginger, 8 garlic cloves, 3 tbsp plain yoghurt, 90 ml veg oil, 1 tbsp salt, 4 tbsp garam masala, 1 tbsp smoked paprika powder, 4 tbsp non smoked (sweet) paprika powder, 1 ½ tbsp cumin powder, 1 tbsp of the fenugreek powder, 2 kg leg of lamb and 250ml water.
For the roast potatoes: 1kg floury white potatoes, peeled and chopped to roastie size, 1 cup rapeseed oil, 2 cloves garlic, minced, 2 tbsp brown sugar, 1 tbsp salt, 1 tsp turmeric and 1 tsp fenugreek powder.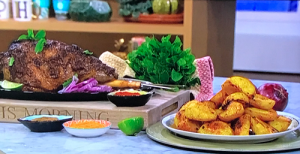 See recipes by Nisha in her book titled: The Spice Tree: Indian Cooking Made Beautifully Simple available from Amazon now.