Jamie Oliver served up tasty slow roasted lamb with dressed beans, lemon potatoes, apricot sauce, green sauce and a fennel, sage, sausage and onion stuffing on Jamie Oliver: Together.
The ingredients are: olive oil , 5 higher-welfare merguez sausages , (250g total), 1 bunch of sage , (20g), 2 small bulbs of fennel, 2 red onions, 250 ml white wine, 250 g sourdough bread, 3 kg higher-welfare lamb shoulder , bone in, 1 bulb of garlic, 2 heaped tablespoons plain flour, 1 tablespoon blackberry or blackcurrant jam, red wine vinegar and Green sauce , to serve (optional).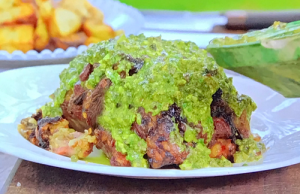 See recipes by Jamie in his book titled: Together: Memorable Meals Made Easy available from Amazon now.