Freddy Forster served up a spicy chicken jambalaya with prawns and okra on Mel B's Packed Lunch.
The ingredients are: 50 ml vegetable oil, 1 x medium onion (Finely chopped), 1 x sprig thyme, 1 x bay leaf, 1 x garlic clove (Finely chopped), 2 x sticks of celery (Peeled and diced into medium pieces), 2 x breast of chicken (No skin or bone) and cut into thin pieces (Seasoned with Cajun spices), 1 x ring of chorizo (Skin removed), 1 x packet peeled tiger prawns, 1 x tin canned plum tomato (400g), 1 x green pepper (Cut in Medium dice), 1 x red pepper (Cut into Medium dice), 1 x fresh red chili (Finely sliced), ½ x tbsp chilli flakes, 1 x tbsp Cajun spice, 1 x tsp smoked paprika, 280g long grain rice, 500ml chicken stock, 5 x pieces Okra (Roughly sliced), 1 x tbsp Flat leaf parsley (Roughly chopped) and Tobacco sauce (to taste).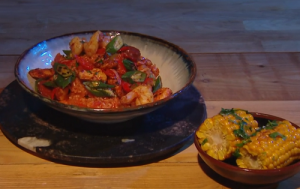 See more jambalaya recipes in the book titled: 50 Delicious Jambalaya Recipes: A Jambalaya Cookbook from the Heart! available from Amazon now.