It is week 4 of MasterChef 2014 and already the weeks are staring to fly by as a new bunch of cooks enter the MasterChef Kitchen this week.
[imagebrowser id=78]
The six cooks are tested by judges John Torode and Greg Wallace on day 9 of the competition to see who is good enough to make the quarterfinals at the end of the week.
Today's cooks are:
Beany, 38, Magazine Sub-Editor
Leng, 29, Charity Volunteer
Drew, 33, Guitar Amp Sales Manager
Anna, 25, Insurence Broker
Luke, 31, Robotics Engineer
Ricky, 28, Food & drink PR.
For their first challenge, the cooks must serve up their calling card, a practiced dish that represents who they are as a cook. The time limit for this task is just one hour and their goal is to dazzle the judges with one plate of food that showed just what they can do.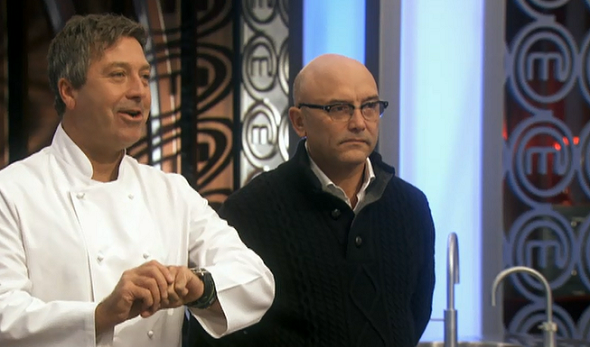 They then faced the infamous invention test, choosing between two sealed boxes of ingredients – one sweet and one savoury. Chef John Torode also takes on this challenge himself, showing the viewers at home just what is possible with the few ingredients. He makes Thai red curry from the savoury box that impressed judge and food critic Greg Wallace once again.
In the sweet box today the ingredients are: ricotta, black cherries, bananas, Kirsch, cocoa powder, cashew nuts, nutmeg and sponge fingers.
While the savoury box contained: tofu, pak choi, asparagus, coconut milk, anchovy fillets, bamboo shoots, sesame seeds, mint, fresh coriander and aubergines.
The cooks had just one hour to prepare a dish good enough to keep them in the competition before two are sent home.
The four remaining cooks faced one more challenge to obtain a place in the quarter-final. They had to cook an impressive menu for the 2009 MasterChef Champion, Mat Follas who is joined by finalists Tom Rennolds and Daksha Mistry.
After an intense couple of days cooking their hearts out, the verdict was in. The judges revealed the two cooks who will go on to the quarter finals to face even more pressure in the MasterChef kitchen – Anna and Luke.