John Torode served up summer strawberries with strawberry panna cotta, mini pavlovas and strawberry daiquiri on This Morning.
The Ingredients for the strawberry daiquiri are: 500g frozen strawberries (or 300g strawberries with 300g ice) , 2 limes, juiced , 120ml white rum and More ice if needed ice if needed.
For the strawberry panna cotta: 600ml double cream , 90g caster sugar , 1 vanilla pod, split , 2 leaves gold gelatine (soaked in cold water), 400g fresh strawberries and 50g caster sugar.
For the mini pavlovas: 2ml vanilla essence, 2ml lemon essence , 2ml champagne vinegar, 10ml hot water, 4 egg whites, 80g sugar, 1tsp corn flour , 50g chopped roasted hazelnuts , 400g fresh strawberries, 50g caster sugar, 200g thick greek yoghurt and 200m creme fraîche.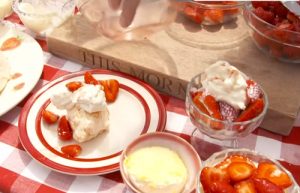 See recipes by John in his book titled: My Kind of Food: Recipes I Love to Cook at Home
available from Amazon
now.