Tom Parker Bowles served up Lapsang Souchong tea smoked pork ribs with steamed bok choy on Saturday Kitchen.
The ingredients for the pork ribs are: 2 tbsp sunflower oil, for frying and 1.6kg–2kg racks free-range pork ribs, cut into racks of 4 ribs each.
For the sauce: 190ml Shaoxing rice wine, 110ml light soy sauce, 90g tomato ketchup, 90g brown sugar, 4½ tbsp white wine vinegar, tsp fine sea salt, 4 black cardamom pods, 50g fresh root ginger, peeled and finely sliced, salt and freshly ground black pepper.
For the Lapsang smoke: 50g white rice, 110g demerara sugar and 0g loose-leaf Lapsang Souchong tea.
To serve : 4 heads bok choi.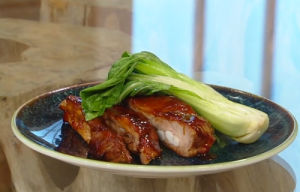 Tom book titled: Fortnum & Mason: Time for Tea is available from Amazon now.