Gok Wan served up a tasty wonton soup with pork and prawn dumplings, bak choy, egg noodles and spring onions on Gok Wan's Easy Asian.
The ingredients for the broth: bok choy, spring onions, ginger, garlic, prawn heads and skins, shaoxing rice wine and light soy sauce.
For the wontons: spring onions, water chestnuts, bamboo shoots, garlic, ginger, 150g pork mince, prawns, corn flour, sesame oil, light soy sauce and shaoxing rice wine rice wine and wonton wrappers.
To serve: egg noodles and spring onions.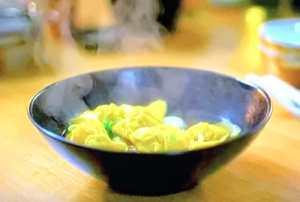 See recipes by Gok in his book titled: Gok's Wok available from Amazon now.