Rachel Khoo served up a delicious banana split with cocoa nibs praline and chocolate fudge sauce on Rachel Khoo's Chocolate.
The ingredients for the cacao nib praline are: 75g granulated sugar and 50g cacao nibs.
For the fudge sauce: 45g granulated sugar, 75g dark brown sugar, 50g unsalted butter, 120g creme fraiche, 50g 70% dark chocolate, roughly chopped, 4 tbsp unsweetened cocoa powder, A pinch of salt, 1 tsp vanilla extract and 3 tbsp Amaretto.
To assemble: 200ml whipping cream, 2 tbsp melted butter, 4 firm little bananas, or 2 large firm bananas, 2 tbsp granulated sugar and 4 scoops of vanilla ice cream.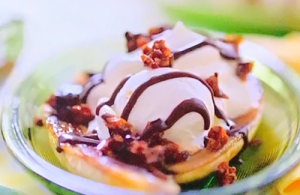 See recipes by Rachael in her book titled: Rachel Khoo's Muesli and Granola available from Rachel Khoo's Muesli and Granola now.