Ruby Bhogal served up tasty party vegetable pakoras with a tamarind dipping sauce on Steph's Packed Lunch.
The ingredients are: 200g gram flour, 100g mixed vegetables, frozen, 110g white onion, peeled and sliced, 100g Maris Piper potatoes, thinly sliced, 90g cauliflower, florets, 3tsp coriander, chopped, 1tsp fenugreek, dried, 2/3 green finger chillies, 1 & 3/4 tsp garam masala, 1 & 3/4tsp salt, 200-215ml water, cold and vegetable oil.
For the tamarind dipping sauce: 75g tamarind sauce, 2 & 1/2tbsp water, 10g onion, peeled and finely grated, 10g carrot, peeled and finely grated, pinch of caster sugar and pinch of gram masala.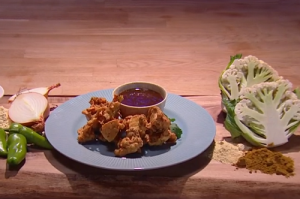 See more vegetarian recipes in the book titled: 15 Minute Vegetarian CookBook: Delicious Healthy Fast and Easy Cooking (15 Minute Cooking Book 1) available from Amazon now.