Julie Jones served up a delicious rhubarb pie with vanilla, star anise, apple and berries on Ainsley's Food We Love.
The ingredients for the filling: 800g trimmed rhubarb, cut in to approx. 4cm chunks, 2 tbsp water, 200g caster sugar, 100g unsalted butter, 2 star anise, 1 tsp vanilla bean paste, pinch salt flakes, 100g peeled and chopped eating apple, 150g raspberries and blackberries (or any mix of berries).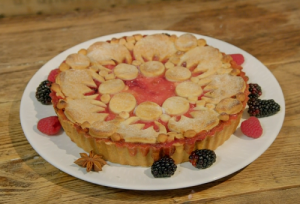 See recipes by Julie in her book titled: The Pastry School: Sweet and Savoury Pies, Tarts and Treats to Bake at Home available from Amazone now.