Shivi Ramoutar served delicious coconut milk souffle with hot buttered rum and spiced-roasted pineapple on Saturday Kitchen.
The ingredients for the spice-roasted pineapple are: 100g demerara sugar, 1 tsp ground cinnamon, 1 tsp ground nutmeg, pinch cracked black pepper, 1 pineapple, peeled, top leaves left on and 50g unsalted butter.
For the coconut milk souffle: 30g unsalted butter, melted, 170g caster sugar, 1 x 400ml tin coconut milk, 2 tbsp plain flour, 2 tbsp cornflour, 1 lime, zest only, 6 free-range eggs, at room temperature, separated and generous pinch cream of tartar.
For the hot buttered rum: 4 tbsp double cream, 60g salted butter, 110g sugar, 5 tbsp dark rum, pinch ground cinnamon and pinch grated nutmeg.
To serve: 20g icing sugar, for dusting and edible flowers, to garnish.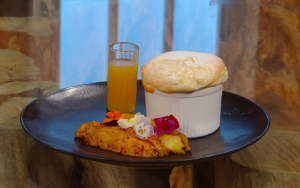 See recipes by Shivi in her book titled: The Ice Kitchen: Fast Fresh Food to Fill Your Family and Your Freezer available from Amazon now.