Phil Vickery served up a delicious hot cross bun ice cream sandwich with frozen raspberries for Easter on This Morning.
The ingredients are: 4 hot cross buns, 4-5 tbsp brown sugar, 300g caster sugar, 150mls cold water, 8 egg yolks, 600mls very lightly whipped double cream, 2 tsp vanilla extract , 1 level tsp mixed spice , 1 level tsp ground cinnamon and 150g sieved raspberry puree (made from frozen raspberries).
For the hot cross bun sauce: 120g unsalted butter, Salt to taste, 150g light brown sugar, 275mls double cream, 1 tbsp black treacle, 1 level tsp mixed spice, ½ tsp ground cinnamon, Dash lemon juice, 1 tbsp vanilla extract and 100g sultanas, soaked in boiling water or tea (best overnight if you can).
For the hot cross bun sandwich: 4 hot cross buns, sliced into 3 very carefully and 0g melted salted butter.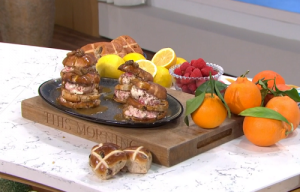 See recipes by Phil in his book titled: Save Money Good Diet: The Nation's Favourite Recipes with a Healthy, Low-Cost Boost
aviialble from Amazon
now.