Nisha Katona cooked a 10 minutes butternut squash, sweet potato and spinach vegetable curry on This Morning.
The ingredients are: 5 tbsp vegetable oil, 1 tsp black mustard seeds, 1 tsp fenugreek seeds, 1 tsp asafoetida powder, 1 small butternut squash, unpeeled chopped into 2cm piece, seeds removed and steamed to just soft, 1 small sweet potato, peeled and chopped into 3cm pieces, and steamed to just soft, 1 tsp turmeric, 1/2 tsp chilli powder, 1 tsp salt to taste, 2 tsp brown sugar, Handful of roasted cashew nuts, 1 small bag baby leaf spinach, roughly chopped or a cup of frozen spinach, Juice of half a large lemon, Sprig of coriander and 1 tsp of pomegranate seeds, for garnish.
To serve, optional: Flatbread wrap and Rice.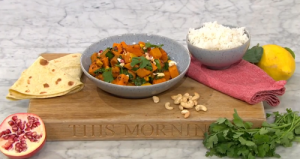 See recipes by Nisha in her book titled: EAT & LOVE UMBRIA: The UMBRIA COOKBOOK available from Amazon now.