Sat Bains served up an impressive butternut squash soup with chicken oysters, truffles, pickled pumpkin and Parmesan cheese on James Martin's Saturday Morning.
The ingredients for the soup are: 250g squash finely sliced, 2 medium shallots, sliced wafer thin, 50g butter, 450g simmering white chicken or vegetable stock, Salt and pepper to taste.
For the truffle puree: 100g truffles , 40g mushroom stock , 30g brown chicken stock, 30g truffle oil, 5g squid ink , 50g sunflower oil and Salt and sherry vinegar to taste.
For the Parmesan cream: 250g Parmesan infused water (infuse with the Parmesan rinds), 5g agar, 165g cream and 35g Parmesan.
For the squash vinaigrette: 50g squash oil, 50g maple syrup, 25g lemon juice, Salt to taste, Fried Pumpkin Seeds, 100g pumpkin seeds, Sunflower oil and Salt.
For the chicken oysters: 3 chicken oysters per person (18 in total), Sunflower oil, 100g Salted butter, Salt to taste, A few sprigs of thyme, 100g reduced veal jus and Garlic.
For the pickled pumpkin: 6 slices of squash (thin end peeled and shaved on a mandolin), 50g sugar, 50g apple vinegar, 50g water and 50g black truffle sliced into batons.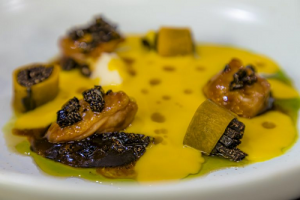 See recipes by James Martin in his book titled: More Home Comforts: 100 new recipes from the television series
, available at Amazon
now.