Nisha Katona served up a tasty burger bun with crispy pork patties and a apple and fennel coleslaw on A Taste of Italy.
The ingredients for the pork patties include: pork mince, olive oil, fennel seeds, a green sharp apple and lemon zest.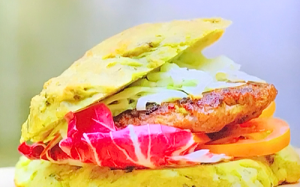 See classic recipes from Umbria in the book titled: EAT & LOVE UMBRIA: The UMBRIA COOKBOOK available from Amazon now.