Freddy Forster served up tasty creamy chicken with spring vegetable and turmeric rice on today's episode of Steph's Packed Lunch.
The ingredients for the stew are: 8 pieces of chicken thighs only, without bone or skin, 10ml vegetable oil, 1 sprig of thyme, 1/2 white onion, finely sliced, 10 pieces of button mushrooms, cut into quarters, 30ml white wine, 1 tbsp wholegrain mustard, 1 tbsp Dijon mustard, 300ml chicken stock, 305ml double cream and 1 lemon, just enough to taste.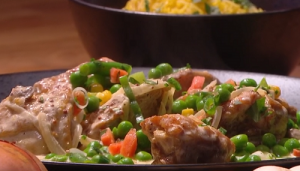 See more creamy chicken recipes in the book titled: 111 Yummy Creamy Chicken Breast Recipes: The Best Yummy Creamy Chicken Breast Cookbook that Delights Your Taste Buds available from Amazon now.